Need a different view? Change from posterboard (default) view to the month or agenda view.
July – August 2015
Jul
19
Sun
HMF Litchfield Hills Olympic Triathlon & Duathlon

@ Brodie Park
Jul 19 @ 7:30 am

The triathlon features a 1.5K swim in a crystal clear lake, stunning mountain vistas along the 40K bike course, and scenic, rural back roads during the 10K run.
The Aqua/Bike event will run simultaneously with the triathlon on the same swim & bike course. The duathlon starts with a 4.5K run and then joins the triathlon's bike course and finishes with a 10K run. Celebratory food and drink top off race day.
Full details on the HMF site.
Aug
2
Sun
HMF Niantic Bay Triathlon

@ McCook Beach Park
Aug 2 @ 7:30 am

This event is a flat, sprint distance race.
Swim: 1/2 mile point-to-point course in Niantic Bay, an ocean bay with no waves or strong currents. Swim waves do not exceed 100 people and we offer a special wave for first timers.
Bike: 12-mile loop through scenic East Lyme with water views and shaded streets. Long straightaways along flat, sea level roads make this course popular with both experienced riders and beginners.
Run: 3.2-mile distance takes place completely along the oceanfront area lined with cheering spectators. A spectacular beach finish caps off a perfect race. A heartfelt thank you to the volunteers and sponsors who brave the early morning hours to support the athletes.
The Niantic Bay Triathlon is a great destination race. Click here to see why Niantic was recently named the first "Fan Favorite" at the Connecticut Conference on Tourism Industry Forum.
More info on the HMF site.
Aug
30
Sun
HMF Women's Triathlon

@ Winding Trails
Aug 30 @ 7:00 am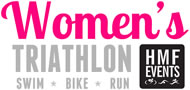 The Women's Triathlon is a sprint distance tri, conducted in a friendly non-intimidating environment, and caters to women of all abilities and ages. Participants will swim 1/2 mile in Dunning Lake at Winding Trails, then cycle 12 miles through the quiet roads of Farmington and Avon and finish with a flat 5K run on the shaded, wide dirt trails in Winding Trails.
If you've never participated in a triathlon, this Women's Triathlon is for you. Come along and experience a supportive and friendly environment for beginners and competition for the experienced triathletes.
Details and registration info at the HMF site.