Need a different view? Change from posterboard (default) view to the month or agenda view.
September 2015
Sep
7
Mon
New Haven Road Race – 20k & 5k
Sep 7 @ 8:00 am – 10:45 am
Race website
No Race Day registration.
This race is the host for the USA 20k Championship.  Also have a 5k.
Great way to start labor day.  Post race food and beer in on the green.

Sep
13
Sun
Surftown Half Marathon & 5k

@ Misquamicut Beach
Sep 13 @ 7:30 am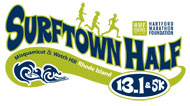 Running along the ocean front streets of Misquamicut Beach and Watch Hill, RI, the Surftown Half Marathon is a spectacular beach run featuring stunning ocean views! Fast and flat, the 13.1 mile course is a great destination race!
Not up for the challenge of the half marathon? Try out the 5K! A fast 5K run through the Misquamicut beach community.
Sep
19
Sat
Gulf Beach Half Marathon & 5k

@ Silver Sands State Park Boardwalk
Sep 19 @ 8:00 am – 12:15 pm
Set for its 3rd annual running along Connecticut's southeastern coast as summer is giving way to fall in 2013, Milford's Gulf Coast Half Marathon & 5K takes runners on an out-and-back tour of this stretch of the Long Island Sound, from Milford Harbor and Gulf Pond to Silver Sands State Park, and down to Cedar Beach and back.
The entire course is basically fast and flat all the way from the starting line at the Gulf Beach Recreational Area along Gulf Street in Milford, to the turnaround point at Cedar Beach. With the exception of stretches along the first couple of miles, which unfold along the city streets that surround Milford Harbor, most of the rest of the race lies right along the coastline, giving runners views of the Long Island Sound for most of the race.
Runners will get to run across part of the newly constructed boardwalk in Silver Sands State Park, which connects the park with nearby Walnut Beach. There is also a second detour away from the coastline at just before the mid-way point of the race, as runners head off Seaview Avenue and onto 5th Avenue and then Milford Point Road, before re-joining Seaview for the remainder of the way to the turnaround point.
Once runners reach Cedar Beach, they then head back northeast along Seaview, all the way back toward Milford along the route they've just run, where they'll cross the finish line back on Gulf Street. The starting time for the half marathon is scheduled for 8:00 AM, followed by those running the 5K at 8:15 AM.