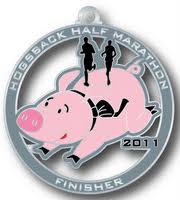 Dear HEAT,
As some of you may know September of 2012 marks the Hartford Track Club's 50th Anniversary.  To mark this milestone, the Hartford Track Club is hosting an anniversary celebration in conjunction with the Hogsback Half Marathon.  I would like to formally (not sure that that's the right word) invite HEAT to the celebration.  In addition, if any HEAT members would like to run in the Hogsback Half Marathon they can get a $10 discount.
See the members only forum for the code or send an email to membership@ctheat.org
Here's the schedule of events:
All activities will be taking place at the Goodwin Dam, Durst Road in Colebrook Connecticut.
Hogsback Half Marathon – 9 a.m. The half marathon will begin at 9 a.m. and the course will be open for three hours.  Both the race shirts and the finisher medals will be special "50th Anniversary" editions and all runners are invited to our post-race 50th anniversary celebration.  Runners can register online here or can down load a paper application here.
50th Anniversary Celebration Begins – 10:30 a.m.   As the first half marathon finishers cross the finish line, our 50th Anniversary Celebration will begin.  We'll have a catered lunch (baked chicken, red potatoes, salad, apples, apple pie, cider donuts and the traditional post-race bagels and bananas), music, raffles (every runner, guest and volunteer will receive 5 tickets for free) and give aways of Hartford Track Club apparel.
Family 1/2 Mile Race – 11:15 a.m.  There will be a 1/2 mile fun run across the Goodwin Dam.  No registration is required and all children who participate will receive a special finishers award.
Awards & Recognition Ceremony – 11:30 a.m.  The Hogsback Half Marathon awards ceremony will begin promptly at 11:30 a.m.  In addition to awards for the overall and age group winners of the half marathon, we will also be recognizing and presenting awards to the Hartford Track Club's founding members and individuals who have been members for 25+ and 10+ years.
Raffle – 12 p.m.  After the awards ceremony, we'll have some great prizes to raffle off.  If you or someone you know would like to donate a raffle prize (you'll receive recognition on our website, Face Book Page and at the event) please contact me at kaburns1214@gmail.com.
Let me know if you have any questions and I hope to see you on September 22, 2012.
Kelly