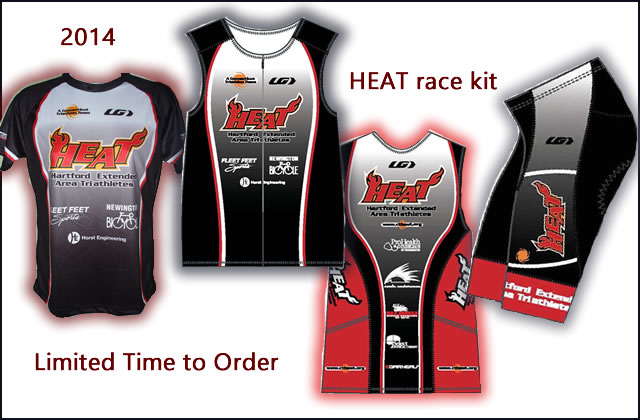 Days left to order: 7
The fit kit was returned to Louis Garneau.  Find size charts with each item in the HEAT store.
Items still needed to place order
:
All set on adult uniforms and junior tri shorts! 
(Delfino tops and/or bottoms)
NOW AVAILABLE – 1 piece skin suits (Need 6 men's and 4 women's)
15 cycling items
(adult and junior jerseys)
14 team tees
The
order deadline
 has been extended to
4/6.
We can't place an order without the required minimum quantities. Thanks.
The store is now open for ordering your 2015 Custom Louis Garneau HEAT gear.
As part of our 10th year anniversary, we are providing great discounts to members and their families on all items.
The 2015 designs will include a special 10th year anniversary logo.   (Image above and in store is 2014 design)
We are also adding Junior gear (Cycling Jerseys and Tri Shorts).
We are taking orders for the following:
Custom Team T – $33
Tour Cycling Jersey – $51
Delfino Racer Tri Top – $54
Delfino Shorts – $44
Jr Cycling Jersey – $46
Jr Tri Shorts – $35
*** NEW *** – 1 piece Skin Suit – $100
Shipping is $5 per order (not per item).  Delivery is usually 8-10 weeks from when we place the order.
See details in the HEAT store .
Fit kits and samples were available at Fleet Feet West Hartford (GOLD Sponsor) until March 26th.   The info on the sheets was just for order estimates.  If you haven't yet, please place your order in the HEAT store by April 3.
This will be the only time to order the 2015 gear.
Please contact the membership director with any questions.