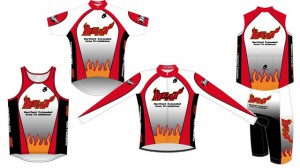 Place your order for fall/winter/racing gear. Orders for HEAT Champion Custom Gear may now be placed in the store.
What size do I order?
All garments are based on the jersey and short patterns. Keep in mind that outer layer garments like vests and jackets are designed to be worn over other garments, so when in doubt order a size up. For skinsuits and tri suits, Champion suggests ordering the same size as your shorts. For arm/knee/leg warmers and gloves, order the same size you normally wear.
Men's Fit
The club cut is a more relaxed, American fit. Don't be confused – the club cut is not a baggy cycling jersey. It's still a classic cycling jersey – it's just not as tight as a race cut. The following is a tip from Champion Systems, "We tell our customers this – if you are not a competitive racer, don't order the race cut."
Women's Fit
Women's jerseys are only available in one cut. This cut features a slight hourglass shape, in that it is nipped slightly at the waist so that it has a more feminine curve. The women's jersey also does not have elastic at the waistband. However, some of Champion System's female customers order a men's club cut jersey, depending on their style preferences.
What products can I order?
At the HEAT store, you can order men's and women's cuts in the following:
Bike Jerseys
Cycling Shorts
Wind Vest
Tech Fleece Jacket
Winter Jacket
Marathon Singlet
Running Race Shorts
Lycra Arm Warmers
Running Cap
Tri Tops
Tri Shorts
HEAT Polo Shirt
What is the deadline for placing an order?
The order will be submitted the end of September.  Gear should arrive in November.
View more details about Champion Custom HEAT gear. If you have any questions feel free to contact Roger, the HEAT Gear Director.