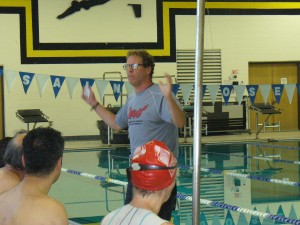 Click here to sign up.
Bring your swim to the next level.
HEAT affiliate Jeff Stuart and HEAT return this spring for another professionally coached 8 week session at St. Joe's.
Special guest appearances by some of the most experienced members will ensure everyone has a great experience.
All levels are welcome (especially those new to HEAT). We guarantee you will experience all-around improvement in your aquatic abilities.
This is the premier swim program around and is focused on triathletes.
Jeff is ready to bring everyone up to the next level and we'll add in some fun.
It's going to be another full 1.5 hours at St. Joe's in West Hartford.
Limit is 25-30 individuals.
Time is 10:30 – Noon on Sundays starting October 15th through December 10th.
(no sessions on 11/26 – Thanksgiving weekend)
NOTE– Due to insurance requirements, you must be an "active" HEAT member.
Also, since this is a progressive program we do not have a "walk-in" option.
Join or renew here.
COST:
Heat Members – $95
Coach: Jeff Stuart
Coach Jeff has over 25 years of coaching experience. Qualified for Olympics-1980 (boycott year) in Butterfly
1996 World Champion 5K – Sheffield, England
2011 ational Champion in 5K & 2 Mile Cable Swim
2012 Kingdom Swim 10 miles 3rd overall – Northeast Kingdom, VT
2013 Overall Champion, Middle Atlantic Swim Festival, Lake Hopatcong, NJ
2014 Overall World Champion, 10 Mile Kingdom Swim, Vermont
3rd overall 2012/2013 Hudson River upstream 5.85 miles – Little Red Lighthouse
Pool Experience:
1996 World Masters Record Holder: 100m & 200m butterfly
1997 National Record Holder: USMS 1-hour Postal Swim
2012 USMS 1-hour Postal Swim – top 5
2013 USMS 1-hour Postal Swim – National Champion 50-54 age group
2013 USMS All-American Masters Swimmer – Long Distance National Championships
We will guarantee that you will improve your confidence in the water! You will not be disappointed!
Questions?
Call Coach Jeff at (860) 416-0638 or email: stumax96@gmail.com or visit Jeff's site.
Happy Swimming!